Jurassic World: Dominion Dominates Fandom Wikis - The Loop
Play Sound
The fifth season of The Flash premiered on The CW on October 9, 2018, and concluded on May 14, 2019. It was announced on April 2, 2018.
The season aired on Tuesday nights at 8:00 PM prior to Black Lightning in the fall, Roswell, New Mexico in the winter, and The 100 in the spring.
It arrived on DVD and Blu-ray on August 27, 2019.
Synopsis
When Barry and Iris meet Nora, their lives are flipped upside down, and her arrival brings to light the legacy every member of Team Flash will leave years from now, causing many to question who they are today. While Nora idolizes Barry and his legacy as The Flash, she carries with her a mysterious grudge towards Iris. Team Flash rallies to find a way to help Nora return to her time, only to discover her presence has changed the timeline and brought the early arrival of the most ruthless, vicious, and relentless villain Team Flash has ever faced: Cicada.[1]
Cast
Main cast
Recurring cast
Episodes
No. in series
No. in season
Episode title
Written by
Directed by
Original airdate
93
1
"Nora"

Todd Helbing

& Sam Chalsen
David McWhirter
October 9, 2018
94
2
"Blocked"
Eric Wallace &

Judalina Neira

Kim Miles

October 16, 2018
95
3
"The Death of Vibe"
Jonathan Butler & Gabriel Garza

Andi Armaganian

October 23, 2018
96
4
"News Flash"
Kelly Wheeler & Lauren Certo

Brent Crowell

October 30, 2018
97
5
"All Doll'd Up"
Thomas Pound &

Sterling Gates

Philip Chipera
November 13, 2018
98
6
"The Icicle Cometh"
Kristen Kim & Joshua V. Gilbert

Chris Peppe

November 20, 2018
99
7
"O Come, All Ye Thankful"
Jonathan Butler & Gabriel Garza

Sarah Boyd

November 27, 2018
100
8
"What's Past Is Prologue"
Todd Helbing & Lauren Certo
Tom Cavanagh
December 4, 2018
101
9
"Elseworlds, Part 1"
Eric Wallace & Sam Chalsen

Kevin Tancharoen

December 9, 2018
102
10
"The Flash and the Furious"
Kelly Wheeler & Sterling Gates
David McWhirter
January 15, 2019
103
11
"Seeing Red"
Judalina Neira & Thomas Pound

Marcus Stokes

January 22, 2019
104
12
"Memorabilia"
Sam Chalsen & Kristen Kim

Rebecca Johnson

January 29, 2019
105
13
"Goldfaced"
Jonathan Butler & Gabriel Garza

Alexandra LaRoche

February 5, 2019
106
14
"Cause and XS"
Todd Helbing & Jeff Hersh
Rachel Talalay
February 12, 2019
107
15
"King Shark vs. Gorilla Grodd"
Eric Wallace & Lauren Certo
Stefan Pleszczynski
March 5, 2019
108
16
"Failure Is an Orphan"

Zack Stentz

Viet Nguyen

March 12, 2019
109
17
"Time Bomb"
Kristen Kim & Sterling Gates

Rob Greenlea

March 19, 2019
110
18
"Godspeed"
Judalina Neira & Kelly Wheeler
Danielle Panabaker
April 16, 2019
111
19
"Snow Pack"
Jonathan Butler & Gabriel Garza

Jeff Cassidy

April 23, 2019
112
20
"Gone Rogue"
Sam Chalsen & Joshua V. Gilbert

Kristin Windell

April 30, 2019
113
21
"The Girl with the Red Lightning"
Judalina Neira & Thomas Pound
Stefan Pleszczynski
May 7, 2019
114
22
"Legacy"
Story by: Lauren Certo
Teleplay by: Todd Helbing & Eric Wallace

Gregory Smith

May 14, 2019
Production
Filming
Casting
On August 7, 2018, The CW announced that Ruby Rose was cast as Kate Kane/Batwoman, set to make her debut in Elseworlds, the crossover event that took place later that year.[2]
Costume leak controversy
On August 8, 2018, a test photo of lead actor Grant Gustin wearing a new suit design for the upcoming fifth season was leaked across social media. Many fans of The Flash began suggesting that Gustin appears to be "too thin" in the image, and as a result, began not only body-shaming Gustin for being naturally thin, but also criticizing his portrayal of Barry Allen, believing that he lacks the proper physique to portray the DC Comics character.[3]
Reception
Critical response
Ratings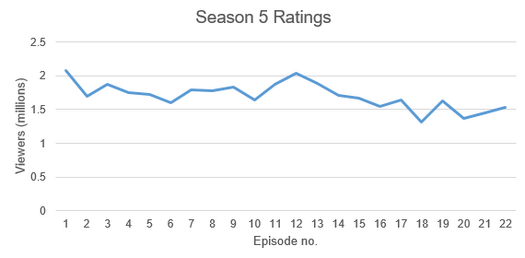 Trivia
This season consists of 22 episodes, one less than the previous seasons, which all consisted of 23 episodes.
This season had four cast members promoted to series regular status - Danielle Nicolet, Hartley Sawyer, Jessica Parker Kennedy, and

Chris Klein

. This was the highest amount of series regular promotions compared to those of the previous seasons.
Gallery
Promotional images
Videos
References